Mr. Jindong Xu was one of the leading underwriters in the engineering and property markets. He has both Chinese and German engineering degrees specialized in power generation, nuclear engineering and industrial process control. Together with his international industry experience, it enables him to understand the exposures of large construction and industrial property risks profoundly and prospectively. In his +20 years underwriting career at Munich Re, Hannover Re and Lloyd's China, he has viewed thousands of large construction and property projects worldwide and signed more than a thousand of them, which includes all kinds of power plants (coal-fired, gas turbine, combined cycle, hydro, nuclear, pumped storage hydro, wind, diesel, incineration etc.), steel mills, metro lines, chemical and petrochemical plants, semiconductor plants, roads and railways, large and oversea bridges, long tunnels, pipelines, harbours, breakwaters, reclamations, high raised buildings, shopping malls and arenas. Since 2002, he has also been involved in a number of CIA/1B1R projects. Currently Jindong is an expert consultant with the Insurance Association of China.
---
KEYNOTE
JINDONG XU – China Insurance Market Today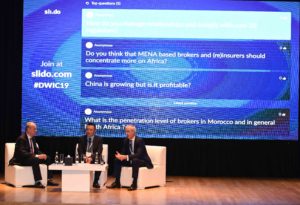 Where MENA fits into Chinese investment plans
---
BEYOND MENA: A REVIEW OF EMERGING MARKETS AND THE IMPACT OF CHINA 1BIR
Q&A
How do MENA markets figure within China's 1B1R plans?
According to Ministry of Commerce of China, in 2017 the flow of China's Outwards FDI (Foreign Direct Investment) is 158 B USD, about 1.8 B USD goes to MENA and 20.2 B USD goes to B&R countries. The total stock of China's FDI is 1,809 B USD, of which 30 B USD is in MENA and 173 BUSD is in B&R countries.
In respect of FDI stock, the top 5 countries are UAE, Israel, Iran, Saudi Arabia and Ethiopia in MENA.
Which lines of business will be most impacted by 1B1R investment?
B&R investments are mainly focused on the areas of infrastructures, exploitation of resources, power generation and manufacturing.
Is 1B1R doing much to drive regional re/insurance business vs being re/insured in China?
There are different factors influencing the (Re-)insurance of China's FDI projects:
the local regulation rules
whether the local insurers or brokers could provide services in Chinese
terms and conditions and price
Attitude and ways of claim settlement
In most cases, the local insurers play fronting insurers, the brokers are long term business partners of insured. The Chinese insurers, like PICC, Ping An, Taiping and Huatai, play Reinsurers, provide very competitive terms and wide coverage, and are supported by international big Reinsurers and insurers like SRe, MRe, SCOR, CV Starr, Chubb, AIG etc with huge capacities.
If the local insurers and brokers could provide some services in Chinese, lock the international Reinsurance capacities, use the Chinese capacity reasonably, they could improve their rules in this business.
---