Laurent Pochat-Cottilloux is an experienced health insurance professional, who has spent more than 20 years in the industry. He is an actuary by trade, and also has an MBA from London Business School. He has worked both in start-ups (launching a UK health insurance company) and in large corporate environments (Standard Life, AXA).
In 2010 he set up a new health reinsurance hub in Singapore. Over the last few years, the team has launched a series of innovative health programs in markets big and small across Asia-Pacific, from Pakistan to New Zealand. These products tend to cater for the mid-to high-end segments, which typically include coverage for cross-border healthcare (i.e. medical travel).
AXA offers a unique "360 degrees" reinsurance proposition, dedicated to health insurance. They support their cedants across the entire health value chain, from market assessment to product design, medical underwriting and TPA & assistance services. AXA will work with both Life and non-Life companies, typically on the basis of long-term proportional treaties.
In 2016, this health partnership model was rolled out across the World – with a particular focus on CEE, Latin America and Africa. To date, AXA has health reinsurance partners in 40 countries across 5 continents.
Laurent, 46, lives with his wife and three young children in Singapore.
---
MENA: IN GOOD HEALTH?
Healthcare tourism could be a strained market's saving grace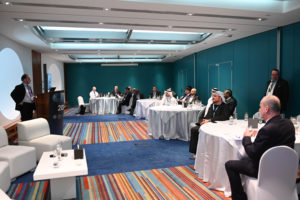 Q&A
Health insurers are moving beyond the traditional mould of insurance services. What are some main features that you see many insurers incorporating?
Generally speaking, insurers are attempting to make themselves less transactional and more relationship-based or customer-centric, i.e. moving from "payers to partners". In the context of health insurance, this means taking an interest in the wellness of customers, not just funding the cost of medical conditions. If we are able to build relationships with customers through offering added value services which could include ways of preventing illnesses from happening in the first place, we have a win-win situation. Insurers do this by bundling a widening array of services alongside the core insurance product, many of them provided by independent expert service providers and facilitated by mobile apps:
• Health & wellness assessment and tracking (assessments highlight potential health issues before assignment/moving abroad, allowing customers to prepare accordingly, health apps offer health scores, no. of steps per day, sleep quality, diet, exercise, smoking/drinking habits, weight/heart rate monitoring to allow customer to monitor and take control of their own health)
• Active health improvement services: smoking cessation plans, gym membership subsidy, reduced fee for sports participation etc
• Better access to health professionals often means faster diagnosis or access to the right advice to alleviate worry: 24/7 helplines offering access to nurses, counsellors or doctors over the phone, video consultations (telemedicine), online prescriptions / home delivery of drugs
• More information about medical providers: "TripAdvisor" type platforms rating hospitals, benchmarking them on outcomes, sharing patient reviews, second medical opinion services
Do you see a significant shift in business model?
We see an increased trend towards partnership, as the needs of our customers and environment we work in globally becomes increasingly complex. When in the past insurers might have tried to develop some of the above services in-house, nowadays most will rely on independent expert providers who they know will be able to deliver the right service for their customers, wherever and whenever they need it. It is more about providing a "curated" experience, less about providing the services themselves.
What is the biggest driver for change?
I expect the "Internet of Things" to mean increased access to connected healthcare devices, themselves linked to mobile apps, and some ultimately one day impacting the premiums paid by customers for their health insurance. For example, we could envisage someone tracking their heart beat, cholesterol or insulin level, or number of steps on a daily basis to be able to receive a discounted premium based on their personal stats. This is similar to what is happening in Motor insurance, where "pay as you drive" products are able to reward good drivers by tracking their behaviour on the road. In health insurance terms, this would be "pay as you live".
What is the biggest factor that will shape the health market in the future? And how would that impact health insurers?
Medical advances will continue to drive health insurance forward. The biggest impact it has on the product is that it will continue to drive premium increases above general inflation for the foreseeable future. What we've seen in the more mature markets (UK, US etc) is that the insurance component of the product needs to be increasingly focussed on what the customer needs the most in order to keep the product affordable. For example, outpatient consultations may no longer be insured, but hospital stays continue to be. It also means that co-pays, deductible and restricted hospital networks (PPOs, HMOs, etc) will be deployed more widely and the appetite for remote access to medical assistance will continue to rise.
---